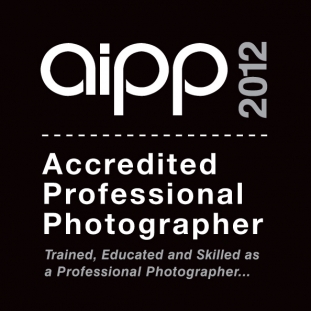 So here it is, something I am extremely proud of and worked very hard toward. You may say "Yeah, so. It's just a logo" so I shall explain to you my joy and excitement just a little further.
Ever since I started my photography business I used to cringe when people called me a professional photographer worse still my stomach would churn when I called myself a professional photographer. Who awarded me the title of being a professional? What did I have or do to give me the right of calling myself a professional? Was my work good enough to be classed as a professional? These were questions that constantly plagued my mind. Well the first two were easy to answer…..NOBODY and NOTHING. I had done nothing to be entitled to call myself a professional. Sure I completed a certificate and am part way through a diploma but that would hardly award me professional status…..More on question three later.
The first time I heard about the AIPP (Australian Institue of Professional Photography) was a number of years ago at a workshop held my Rob Heiman Triple Master in Photography. Since then I have discussed the pros and cons with other AIPP members and discovered there were alot of pros and very very few cons. So I investigated further and researched the selection criteria etc, still very aprehensive.
For quite awhile fear held me back from applying but with the support and encouragement of loved ones I took the plunge and put myself and my work out there to be judged by a PANEL, not just one but a PANEL of well respected and extremely talented professional photographers. What if they said no? What if they said my work wasn't of a professional standard?….Hey, now doesn't that sound like question three. The only way I would find out if I was good enough was to be assessed. And so what if the answer was no then I would know that there was still some more work to be done, more techniques to try.
Well the answer wasn't no, the answer was yes. And as the title of this blog suggests by no means do I think that I have arrived, that there is nothing more to achieve…quite the opposite. One MAJOR highlight of the AIPP is that members need to continually upgrade their skills and knowledge through their Continual Professional Development programme. I need to acrue 50 points in a year by attending various workshops and seminars in order to keep my professional status…..sounds good to me!
Yes you will be seeing this logo attached to my business cards firstly as a requirement of the AIPP in order to call myself a professional I need to display this logo on all printed material, and secondly, well, I think I've earned it. I in no way think that I am better than anyone who has not chosen this path, there are some extremely talented photographers out there that are not AIPP members and that is not for me to judge in the slightest. But for me I know this is what I needed to ease my mind and to increase my confidence.
I would like to thank those who trusted my God given talent to encourage me to continue in my dream and most importantly to my Lord and Saviour Jesus for blessing me with this gift that I can also bless others with :-).